The SMO des Ports Lorrains (composed of the Grand Est region and Voies Navigables de France) has entrusted CFNR Transport SAS with the temporary management of the Ports Lorrains Concession
Our scope :
The scope of the Concession covers 9 ports located along the Moselle: Cattenom, Koenigsmaker, Thionville-Illange, Nouveau Port de Metz, Metz-Mazerolle, Belleville, Maxéville, Frouard, Toul-Valcourt
40 leaseholders are located in the ports. These companies are active in different sectors (recycling, logistics, agri-food, cement, chemicals, etc.), and most of them use modal shift.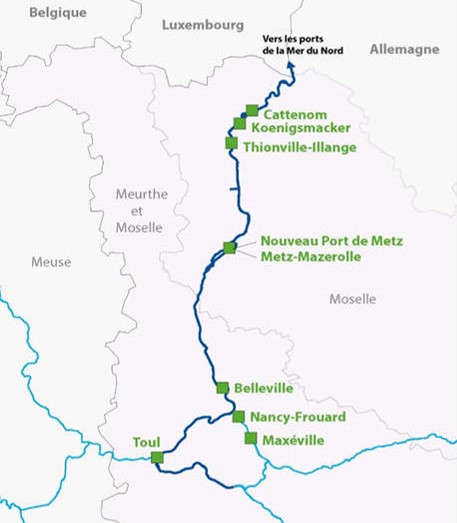 OUR MISSIONS
the management and maintenance of the 9 ports
Business contact with the lease-holders
Port Handling on the Cattenom, Thionville-Illange, Metz Container Terminal and Nancy-Frouard (sub-delegated) platforms
Promotion of available sites on the concession area
Support for economic development and advice on modal shift